This Friday, August 21st, 2009 at Dada's (52 N Swinton Ave, Delray Beach, FL) The Dirty Boxes and Cindy & The Heartaches play at 11PM (no cover).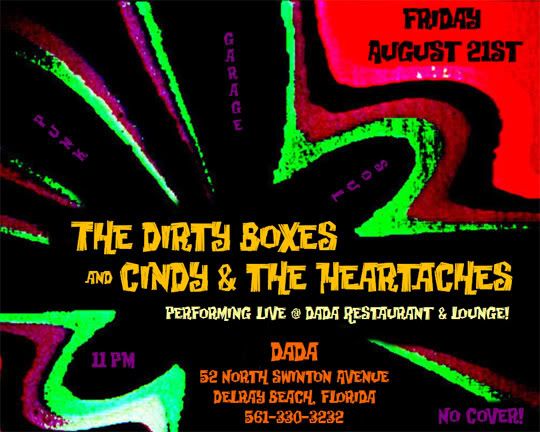 Also on Saturday, August 22nd, 2009 at Respectable Street (500 Clematis St, West Palm Beach, FL) there's a block party spanning Respectables and O'Shea's Pub. Angry Pudding as well as The Freakin Hott, Viva Le Vox, Tongues of the Heartworm, and others will be playing the back patio of O'Shea's amongst other places. I don't have any more info on this, but if you're near Clematis around 8pm an open bar and free pizza sounds like a good time to me.
Did I mention they both appear to be free? Probably 18+ or 21+ each show.