So since nobody reads this thing and it actually takes time to update (and I have no internet at home) this is somewhat annoying to keep updating. For the few of you that still read this thing, or in a vein attempt to keep readers from the future with an idea of who came through town: here is your update.
FFFFFFFFFFFFFFFUUUUUUUUUUUUUUUUUUUUUUUUUUUUUUUUUUU
No seriously. Here you go.
Against Me!
will be playing Culture Room in 2 days. Yeah I know, kinda short notice. I've known for several months and never put it on the calendar or anything. Meh. I don't know Tim Barry but it sounds like mostly just acoustic solo stuff from their myspace. Ninja Gun sounds like indie rock. I guess, go with an indie/anarchist sensibility and/or an open mind.
Thursday, February 18th, 2010
Culture Room
-
Against Me!, Tim Barry, Ninja Gun
7:30pm, $12-$30 (because how the fuck do you buy Culture Room tickets other than stubhub or ticketraper?), Probably All Ages
Your favorite local punk record label Destroyio Records has another
great show this weekend
. Keep it up guys!
Saturday, February 20th, 2010
The Art of Freedom
-
Guerrileros De Nadie, Nobody's Hero, Eztorbo Social, The Panix, M66, Enough!, DJ Skidmark
8:00pmish, $5, All Ages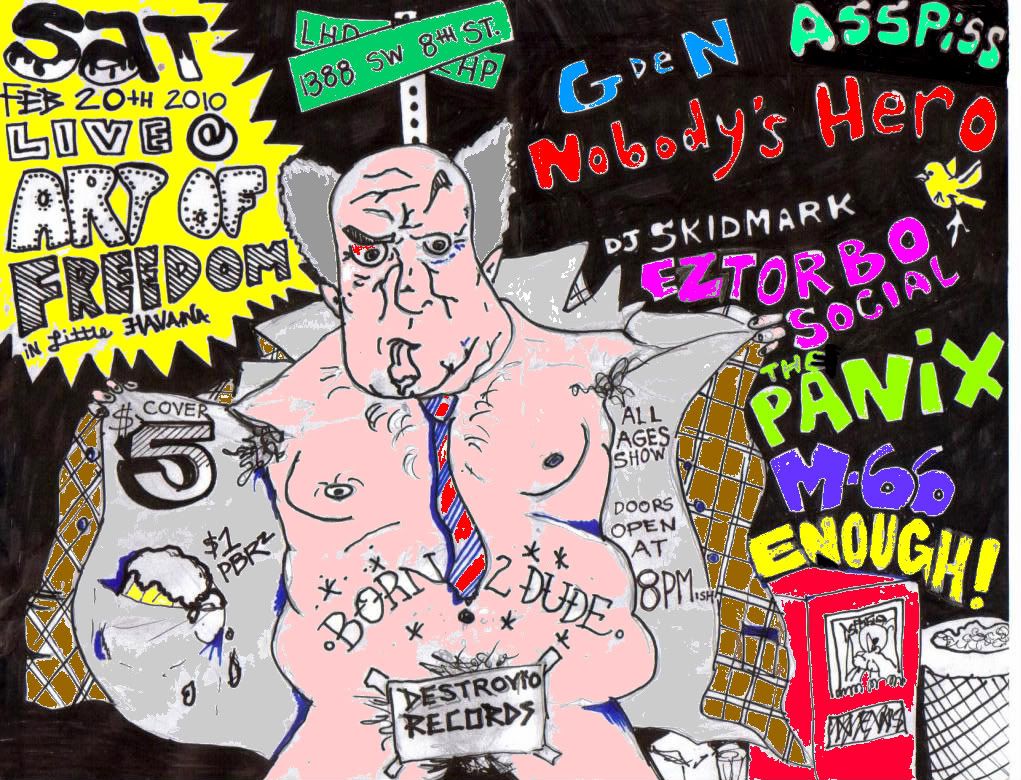 All ages show in Hialeah? Should be fun =) Ska + Punk.
Saturday, February 27th, 2010
The Annex
-
Only Right Left, Unit Six, To Be Hated
8:00pm, $5, All Ages
Cro-Mags
come through Churchill's next week to fuck your shit up. This should be a good show.
Sunday, February 28th, 2010
Churchill's Pub
-
Cro-Mags, The Attack!, Nobodys Hero, Barbinger, O.P.S, Hivemind, Trust No One
8:30pm, $10-$12, 18 and up